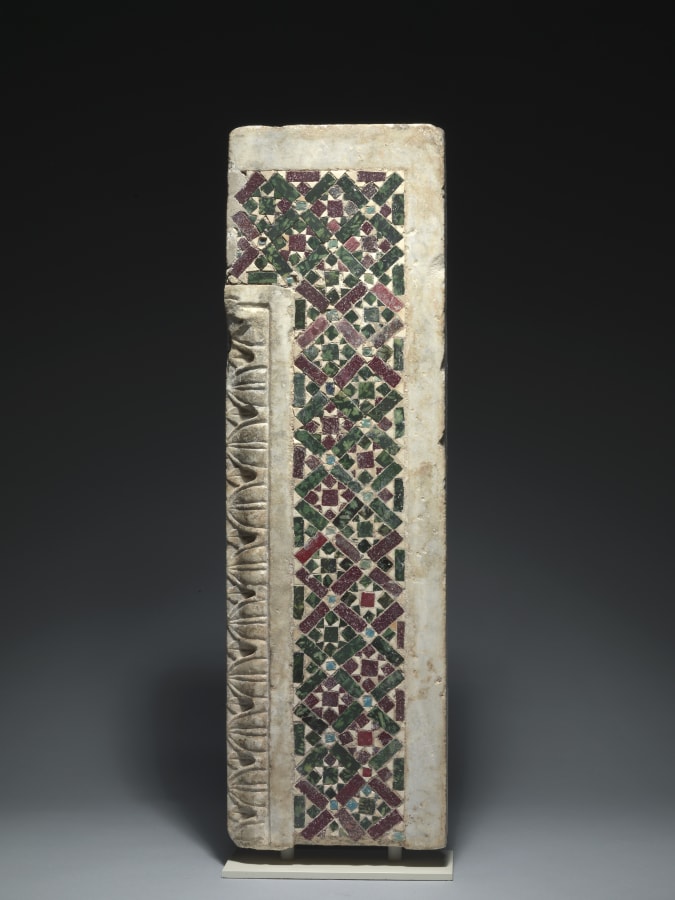 A rediscovered 13th century fragment from Gaeta cathedral
Object of the Week - 24 April 2020
This slender architectural panel is inlaid with reused ancient stones in a complex pattern of stars and trellis work. This style of decoration is often described as Cosmati work, a name given to inlaid geometric 'sectilia' stonework typical of the architecture of Early Medieval Italy, and especially of Rome and its surroundings. The name derives from the Cosmati, the leading family workshop of marble craftsmen in Rome, famous for their creation of richly coloured mosaic stonework, most notably perhaps in Westminster Abbey in London, for which they designed a vast pavement erected in the abbey in 1268 and surviving there to this day.
The excellent preservation of our panel's carved and inlaid details indicates that it was intended to decorate a piece of liturgical furniture such as an ambo or chancel screen. Careful study of its proportions, its carved leaf and tongue mouldings, and the design of the stone inlays, reveals a perfect match with a group of similarly proportioned and decorated panels now in the Isabella Stewart Gardner Museum in Boston, purchased by the Stewart Gardners on a visit to Italy in 1897. Scholars believe that the Boston panels were originally created during the first quarter of the thirteenth century for the cathedral of Gaeta.
After having languished in anonymity for a century or more, we can once again be certain that our panel formed one of the screen's intricate border sections, which makes it the first fragment of this dismembered monument to come to light since the Stewart Gardners returned to Boston with their treasured cargo in the 1890s. Moreover, it offers us a rare insight into the ingenuity of medieval stonemasons, and the dazzling geometric designs they were able to produce with precious stones salvaged from ancient sites.